Using 3D printing for patient wellbeing: key takeaways from the Formlabs User Summit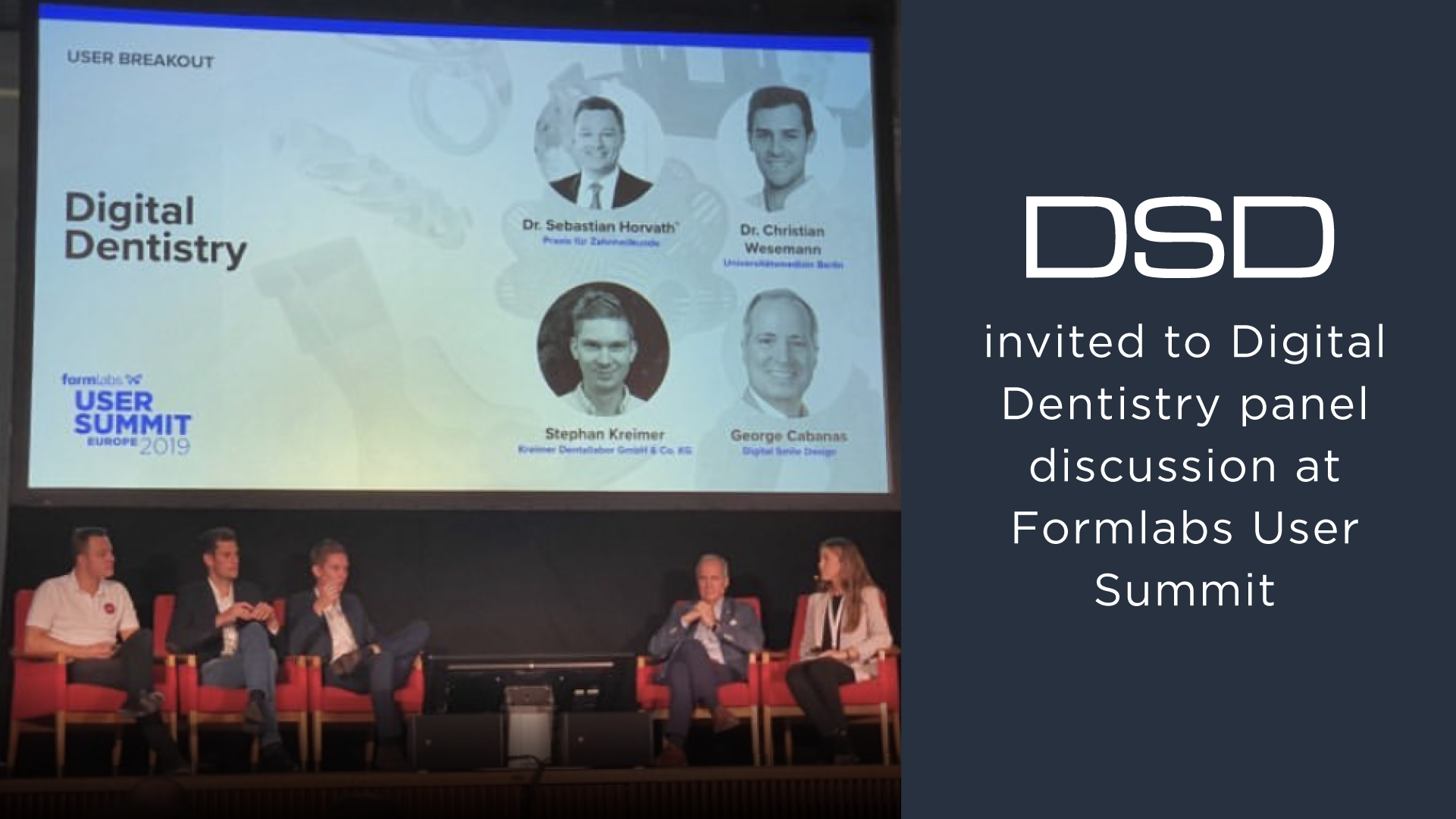 DSD recently attended the Formlabs User Summit in Berlin; the only dental company invited to participate in the impressive program that showcased achievements and innovations in 3D printing across all industries. Represented by George Cabanas, Director of DSD R&D and Printing Center, DSD had the opportunity to bring our own unique perspective to the event by participating in one of these panel discussions on the use of 3D printing technology in the dental industry.
George, with over 12 years of experience in manufacturing dental appliances with 3D printers, as well as four patents in the dental field, shared his views and experience alongside other industry experts in the panel discussion titled "User Breakout: Digital Dentistry". We caught up with George after the event and asked him to share his key insights and experiences.
---
What was new at the Formlabs User Summit?
George highlighted a few interesting concepts that were presented from several of the medical industries over the course of the day.
"From the dental industry, there were some other basic dental models and appliances; in this field, DSD continues the lead the way with our innovative products such as the Clic-Guide, DSD Direct, and Shells. Other concepts include medical modelling with larger 3D printers; 3D-printed orthotics which provide better support for patients; and ceramic resins -- it's possible that within the next decade we'll be able to print dental ceramics, and DSD will certainly be there when that becomes a reality!"

How 3D printing is used in the dental industry
We asked George to explain a little more about the use of 3D-printing technology in the dental industry, the role that DSD has played in this innovation, and ultimately, the benefits of this technology for both dental professionals and patients.
How do you use 3D printing in your business?
George Cabanas: "I work in a global Planning Center where we are sent digital dental patient case files from dental clinics around the world. The teams use specialized software to design tooth restorations. We use 3D printers to manufacture dental appliances such as smile design mockup models, motivational shells (similar to veneers), guided surgery stents, and provisional prostheses. In addition to dental appliances, we use it for prototyping of products in development and as a calibration tool.
DSD is a pioneer when it comes to encouraging more and more dentists to use 3D printing to enhance the clinical workflow in their practices. We also showcase the enormous benefits this technology offers not just for dentists, but for patients too. For example, using 3D printing allows dental procedures to be carried out reliably and with much greater precision than ever before, meaning that dentists can deliver the highest quality results and experience much greater clinical satisfaction. The resulting shorter treatment times also mean happy patients, which in turn is great for business."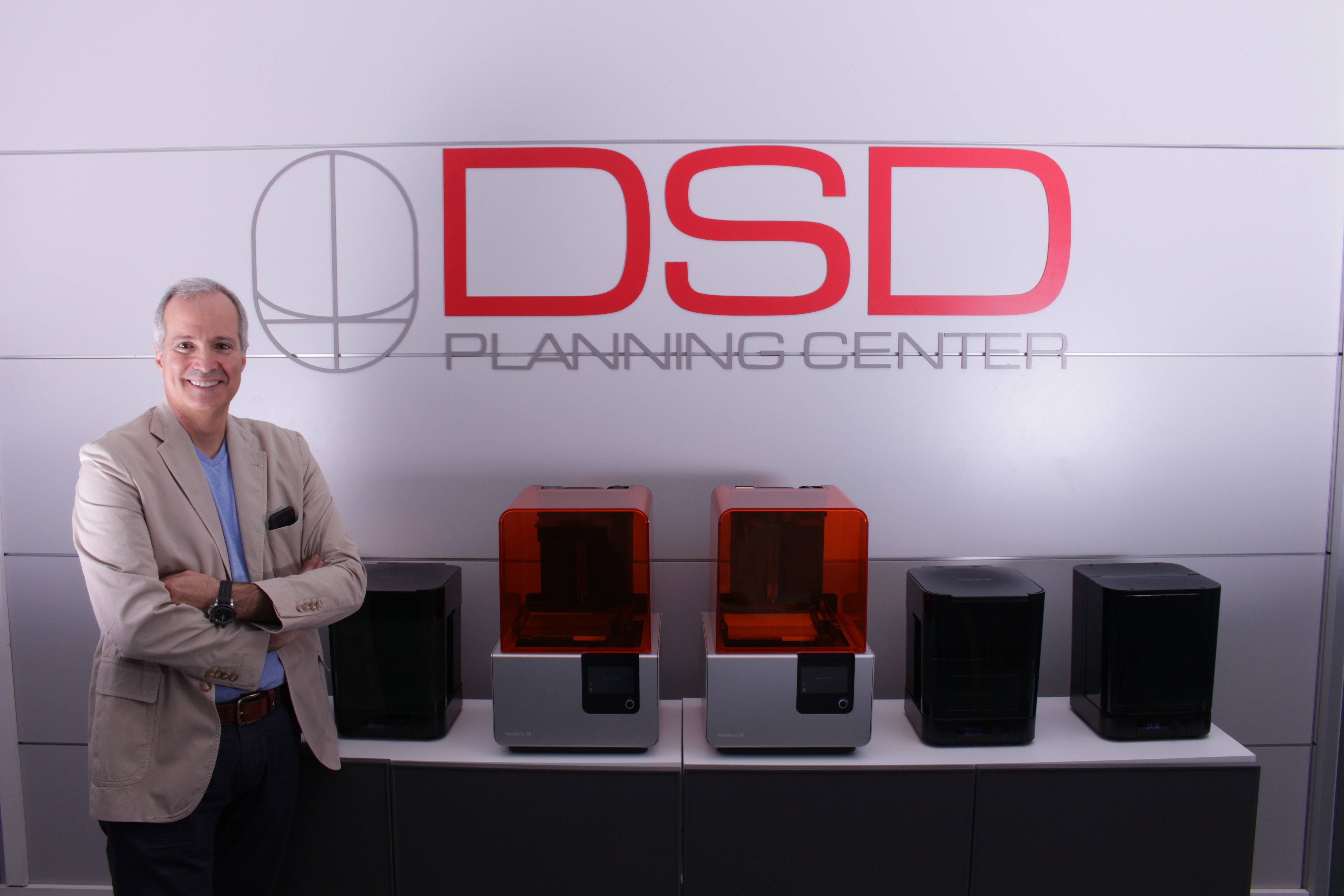 How has 3D printing enhanced your industry as a whole?
George Cabanas: "I've been using 3D printers for dental appliances since 2007. The technology has evolved tremendously in these 12 years. Initially, we could use 3D printers for simple models and surgical stents. Today, we can produce much more precise models that can be used for prosthesis over implants and provisional teeth.
3D printing technology has allowed DSD to continue innovating in our industry and providing revolutionary solutions for dentists to deliver treatment in a much safer and more predictable way. For example, our Double Crown Lengthening Guide transforms the way dentists approach crown-lengthening cases. By creating a real-life 3D guide for the desired soft tissue position from digital images, dentists can work with even greater precision and dramatically reduce their possibility of error. Similarly, the Sinus Lift Guide is a 3D-printed surgical guide which ensures even greater precision in these types of surgeries based on interdisciplinary planning from the Planning Center."
How does DSD enable the dental industry to use 3D printing?
George Cabanas: "DSD has been a pioneer in using 3D-printed technology for the benefit of dentistry. DSD started years ago with the creation of 3D-printed digital models that represent the desired future state of the patient after the full treatment has been performed. Today, DSD is able to reduce the time that a clinician and patient have to wait for their mock-ups, guides, and appliances to be ready. A clinician who has a 3D printer in their office can manufacture the DSD-designed product within minutes of approving the case."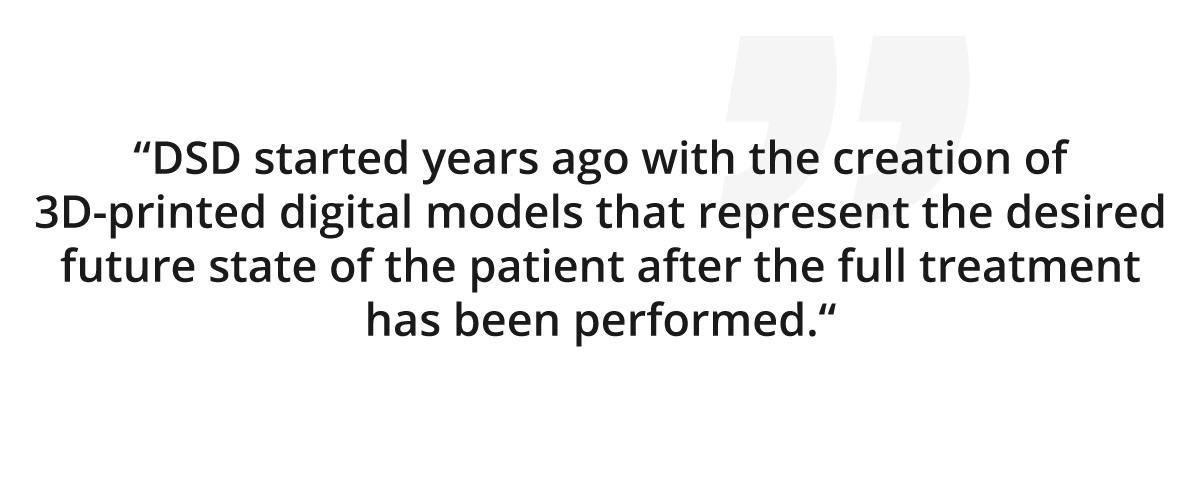 What are some of the innovations that DSD has pioneered and what is significant about these?
George Cabanas: "DSD has been innovative in dentistry by manufacturing surgical Clic-Guides. These are based on industrially designed assemblies and adapted to dental requirements. DSD is transferring technology between sectors. We'll be seeing plenty more innovations in the coming year."
What are the advantages of 3D printing for dentists?
George Cabanas: "Digital technology as a whole supports the dentist in treatment planning and simplifies manufacturing. 3D printers are now affordable and within reach for all clinicians. This allows the DSD team to assist the clinician in designing their patient's case and, minutes after approving the treatment plan, the clinician can 3D print the product at 'chairside'. The great advantage of this is that the clinician can access specialists around the world and manufacture the specific appliance for their patient locally."

What are the advantages of 3D printing for patients?
George Cabanas: "The advantages for the patient are speed, accuracy, and improved treatment planning. Combining DSD treatment planning with locally manufactured dental products allows the clinician to offer the best possible treatment option to the patient. Additionally, the clinician will be able to use 3D-printed appliances to ensure that the implementation of the treatment plan is followed closely. Having a 3D printer in the office is a sign that the clinician is willing to invest in their practice and their patients by using the best tools possible."

Why is it significant that DSD is represented at the Formlabs conference?
George Cabanas: "DSD's presence at the Formlabs conference is significant because:


DSD legitimizes the printing industry as capable of producing the world-class dental products which dentists require.


DSD has access to the materials research team and can directly influence on future product development plans.


DSD can benefit from industry practices that may have a dental application."


Finally, why were you excited to speak at Formlabs User Summit this year?
George Cabanas: "I was excited to be able to inject enthusiasm in the attendees about the advances that I've seen in 3D printing and all the potential that will be possible. I'm constantly asked what a dentist should buy. I enjoy providing all the information and motivating the dentist to purchase the appropriate 3D printer for their needs.
Digital is how we are transforming dentistry, and it was a real honor for DSD to attend this event and show how we continue to bring 3D printing to dental clinics in innovative ways. We were glad to illustrate both the value of this technology within a digital workflow and the profound impact it can have on the quality of dentistry that a clinician can deliver, the patient experience and, in turn, the patients' lives."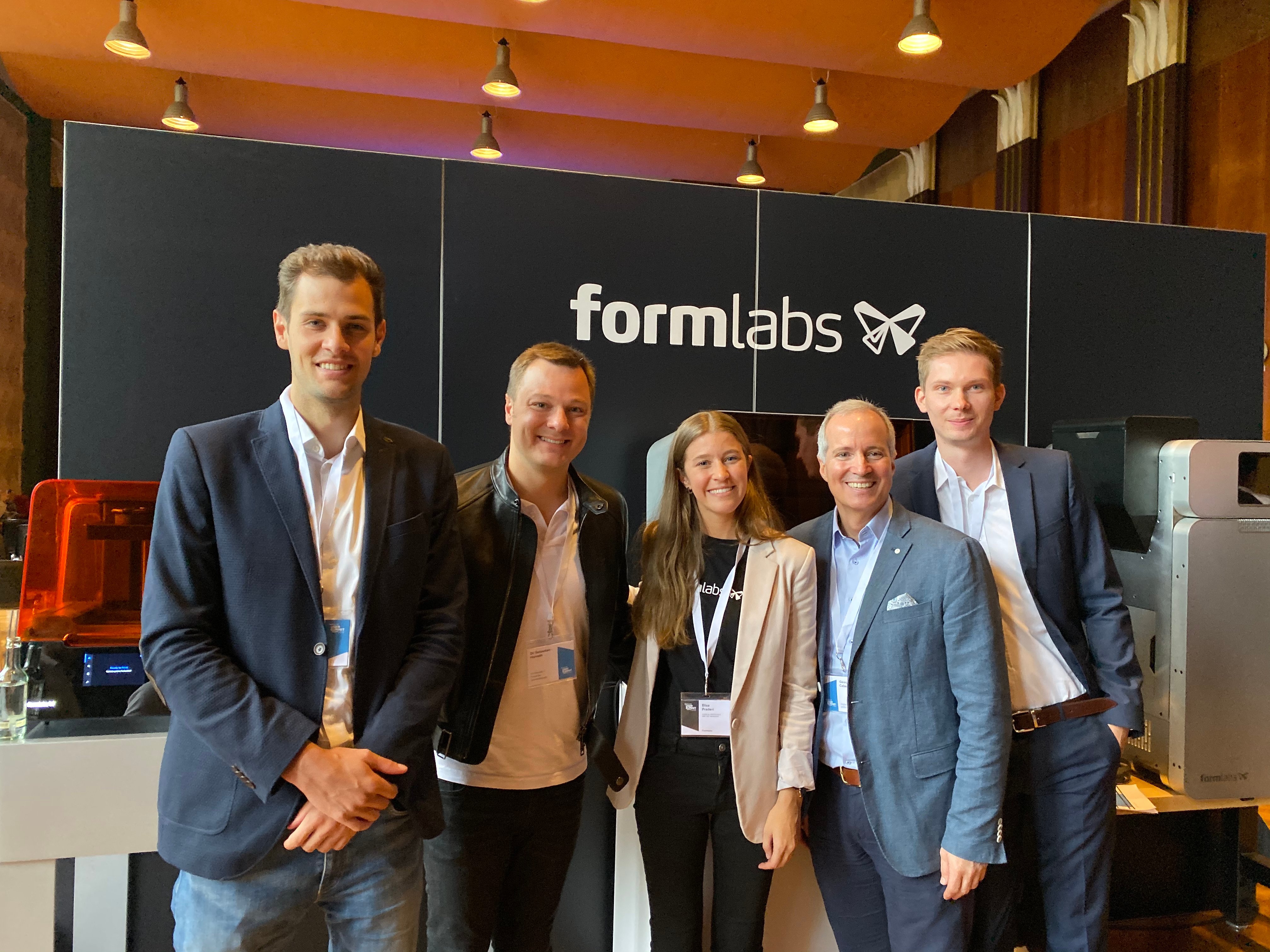 About Formlabs User Summit Europe 2019
Formlabs User SummitEurope 2019 was a fascinating event from a forward-thinking company. It gave all who attended the opportunity to experience how this innovative technology is revolutionizing processes in all types of industries, take inspiration from success stories, and get tips on how to implement 3D printing in digital workflows across a range of industries.
On 1 October 2019, Formlabs took its User Summit Europe 2019 to Berlin for the first time, bringing 3D printing users and industry experts together to discuss the possibilities of digital fabrication. Participants had the chance to see the company's newest 3D printers first hand, take part in hands-on training sessions on how to best take advantage of the technology, and listen to keynote speeches by influencers from several industries as well as interdisciplinary panel discussions.
This year's Formlabs User Summit had several medical sectors present. Some of these include Orthosis, represented by Matej Vlašič; Medical Prosthetics, represented by Dani Clode; Research in tissue-engineered blood vessels, represented by Dr Sam Pashneh-Tala; Protecting children with autism, represented by Dragoslav Radoičić; and Dentistry, represented by Drs Sebastian Horvath and Christian Wesemann, MDT Stephan Kreimer, and DSD's own engineer George Cabanas, and moderated by Dr Elisa Praderi.
About Formlabs
Formlabs is leading the way in making digital fabrication more accessible in industries as diverse as product design, manufacturing, and healthcare. While it's not limited to printing for dentistry, this innovative company and its 3D printers -- the Form 2 and Form 3 -- is at the forefront of the dental industry's digital transformation. Through its technology, cutting-edge, precise 3D-printing is now available for dental clinics of all sizes -- and at a lower cost than ever before.
To learn more about how to bring your clinic into the future with DSD, 3D printing, and digital dentistry, visit our website or book your place on one of our upcoming DSD Residency programs.