Dr Kenji Ojima profile: Success with Invisalign® starts with DSD
In March 2020, we announced the winners of the first DSD Awards at the DSD Masters Meeting – an exclusive, invitation-only event that brings together our community of DSD Masters, Clinics and KOLs from around the world.
We were grateful for the opportunity to honor the outstanding clinicians working with and implementing DSD on a daily basis. One of the award winners, Dr Kenji Ojima, received the accolade for the most DSD® and Invisalign® cases completed with the DSD Planning Center in the previous year. We recently had the chance to learn more about his clinical approach to DSD and Invisalign in an interview with DSD Education Strategy Director, Dr Luken de Arbeloa in his Clinical Solutions webinar series. Click here to watch a replay of the interview.
Meet Dr Kenji Ojima
DSD Key Opinion Leader Dr Kenji Ojima is an adjunct professor at the University of Torino Orthodontic Department, Editor of the Journal of Aligner Orthodontics, and President of the Japan Academy of Aligner Orthodontics. As well as being an international speaker, he has two private dental clinics in Tokyo, Japan.
With vast experience in Invisalign, having completed over 2000 cases, Dr Ojima is one of few Invisalign Black Diamond Providers. In addition, his clinics are some of the few in Japan to have implemented iTero scanning for Invisalign.
14 years of success with Invisalign
Dr Ojima began working with Invisalign 14 years ago, at the end of 2006, when Japan was just starting out in the Invisalign market. He explains:
"I started with the Invisalign system for very simple cases only, because I specialize in lingual orthodontic treatment. But it was very exciting for me when I began to use it for digital tooth simulation. This has very high potential because in general, people don't want to wear braces. My patients say 'I don't like the metal wire, metal braces'. Being able to offer clear aligners that are invisible is very appealing to patients. Nowadays, 95% of my cases are Invisalign. The remaining 5% are for orthognathic surgery cases that have braces for one month to six months, after which they shift to Invisalign."
Dr Luken de Arbeloa echoes this sentiment: "The success of his results is based on experience. The more cases he has performed, the more he has learned from the aligners and ClinCheck®, obtaining better results and applying it in more complex clinical cases, which has given him more confidence to offer Invisalign to his patients."
Invisalign and DSD
Dr Ojima completed his first DSD-Invisalign collaboration case in 2016, and has been delivering cases on a regular basis since then. He believes that Digital Smile Design planning is key for case success, using the digital solutions of facial integration, the ClinCheck system and the emotional mock-up to deliver better orthodontic treatment planning and to communicate more effectively with the patient. It allows him to compile multiple digital treatment plans and enable patients to fully understand the treatment.
He explains the process that a patient goes through before starting Invisalign treatment at one of his clinics: "Initially, the patient comes to my office, I take a scan and get the data. Then I send it to the DSD Planning Center and together we discuss millimeters, tooth movement, tooth size, and define the treatment planning options. I then present this to the patient who can then choose a treatment plan."

DSD before ClinCheck
While many doctors go to ClinCheck first, Ojima explains his steps to success: "My approach is to always use the DSD Planning Center first, and then to apply the ClinCheck system. The outcome is totally different. I believe the integration phase of the bone, roots and teeth can only be understood with Digital Smile Design planning. I see the ClinCheck system as a process that enables good treatment planning, but if you use the DSD Planning Center in the first step, your ClinCheck result is entirely different."

"One of the many benefits of using the DSD Planning Center in the first step is that you can see the facial integration with the teeth. That is a very important thing. When you are only looking at the teeth you cannot plan optimal tooth movement. I believe facial integration with teeth is real treatment planning. Once this is done, I then go back to ClinCheck to finalize the case.
Many doctors go straight to the ClinCheck platform, but in my opinion it is simply not enough. While some may think that aligner treatment takes too long, when you do good treatment planning, have good diagnostics and use good smile simulation, you can achieve more in a shorter amount of time."
Showing value to patients
Being a firm believer in Digital Smile Design, Ojima considers it imperative to communicate the benefits of his methods to patients: "I explain to my patients that orthodontic treatment is not only about a change to their teeth alignment. I tell them it is a life change. I usually say: 'After orthodontic treatment you will be more happy, more motivated, you can do everything, and it's easier to brush, easier to eat, easier to communicate. When you take a photo of yourself after orthodontic treatment you will notice that not only are your teeth aligned but your face looks different too. I want to create your smile, and your teeth to be fully integrated with your face'."
By allowing the patient to see the integration of their face and teeth, they have a greater understanding of the treatment: "Using 3D visualization and Digital Smile Design for the visual presentation is a very effective tool for patient communication. Patients can't imagine this facial integration with the teeth until they see it on a big screen in the clinic; then it's easy to explain the treatment to the patient."
He notes that using the DSD Planning Center as the first port of call in any case planning makes patient communication even more simple and streamlined. In addition, in cases where more complex treatment is required, this approach makes it clearer to explain the benefits and outcomes of the various stages of treatment so that the patient can make an informed decision. "Patients don't know what is good treatment, so it's our responsibility to show treatment planning."
He continues: "In my clinic we use photo and video as an important part of the process for patients to make an emotional connection with the treatment. I find that video footage is more emotional and more effective and easy to communicate to the patient. Now we use an iPad or smartphone to record this essential information".
Visualization influences patient motivation and compliance
A common concern among dentists who deliver aligner and teeth straightening treatment is patient motivation and compliance. Ojima believes his detailed treatment presentation approach has another surprising benefit: when patients have a thorough understanding of their treatment they are fully motivated and compliant to achieve the end result.
He explains: "With good treatment visualization not limited to tooth movement and a clear presentation of the treatment goals, patient motivation will be good. If you use the DSD Planning Center with the Invisalign integration, your patient motivation and compliance will be high."
After 14 years of success with Invisalign, he briefly summarizes the reasons why he trusts in aligners and DSD: "Why do I use aligners? Why do I use DSD? My answer is this: my patients' smiles and their wellbeing is paramount. This is why I use Digital Smile Design and Invisalign."


Missed the interview? Replay it now on WatchDSD...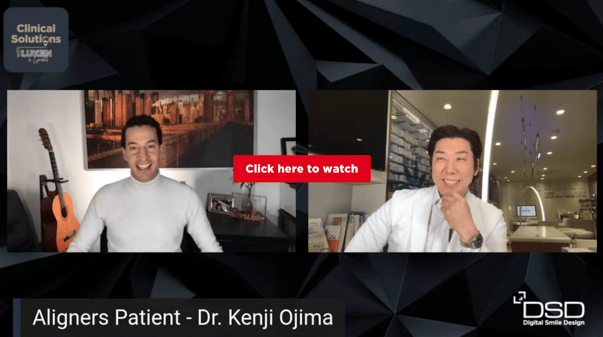 Get access to FREE Grow Your Aligner Business Masterclass
We've launched a brand new Masterclass in our WatchDSD platform, giving you the smart strategies you need to start implementing aligners in your clinic.
Access this world-class learning content FREE on WatchDSD until 1 February 2021 here.
This blog post is created in partnership with Align Technology.