Three barriers to growing your Invisalign® business and what you can do about them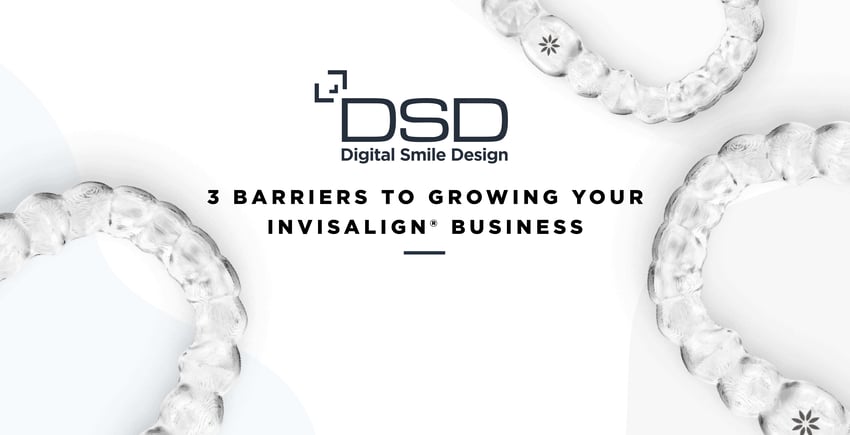 If you are planning on becoming an Invisalign® provider in the near future, and would like to do more clear aligner cases in your clinic, DSD has developed on online masterclass that can transform your treatment offerings – Grow Your Aligner Business with Christian Coachman.
As a result of our partnership with dental industry leader Align Technology, we are pleased to offer this online masterclass, which incorporates the latest solutions and learnings with Invisalign®.
The Grow Your Aligner Business Masterclass provides you with the help you need to achieve even greater success with Invisalign® and aims to communicate two main things: number one - why and how to become a great aligner provider, and number two - if you are already a provider, how you can grow your Invisalign® business.


What's stopping your Invisalign® business from growing?
We believe there are three main barriers that prevent your Invisalign® business from flourishing, and our Grow Your Aligner Business Masterclass provides the solutions you need to overcome them.
The three barriers that we see for clinicians who want to work more often and more effectively with Invisalign® are:
How to diagnose better and recognize the need for teeth movement
How to convince patients of the value of doing Invisalign®
How to overcome the technological challenges of understanding digital orthodontics and ClinCheck® software
DSD helps with all three of these issues by creating visuals of the interdisciplinary relationship, improving team communication and developing an emotional link between the patient and this comprehensive solution.
Let's take a look at each of the three barriers in more detail and how the Grow Your Aligner Business Masterclass can help you to overcome them.
Barrier number one: how to more often and more effectively diagnose the need to move teeth
Tooth movement will help you with your comprehensive smile rehabilitations. Only by clearly understanding the benefits of moving teeth can we convince people to embrace what we believe and what we see. We cannot develop solutions to problems that we can't actually see – so seeing is believing.
Through technology, we can improve the process of diagnosing the benefits of moving teeth and fall in love with moving teeth. By integrating tooth movement, you can improve your comprehensive dentistry.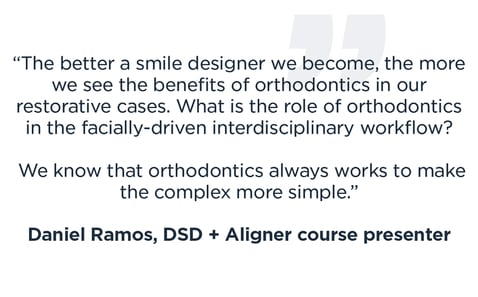 Barrier number two: how to convince patients to accept orthodontics and do Invisalign®
How do you create perceived value and make people understand that investing in tooth movement is the best option for them?
You need to learn the communication strategies, storylines and how to become a great storyteller about the beauty of moving teeth, so that more patients can accept this great solution. This barrier also includes how to increase patient acceptance of orthodontics in adults.


Barrier number three: how to overcome the technological barrier
This is all about how to become an expert in digital orthodontics and aligners, and how to learn the ClinCheck® system and understand how the software to get the best final outcome.
The masterclass will highlight the beauty and the power of the DSD-Invisalign® workflow and you will learn how to become a DSD-Invisalign® provider and show your patients why your aligners are even better.
In addition, the Grow Your Aligner Business Masterclass will highlight and teach you how to use the DSD TPS – the DSD ClinCheck® Treatment Planning Service – to outsource the ClinCheck® experience we have to your office.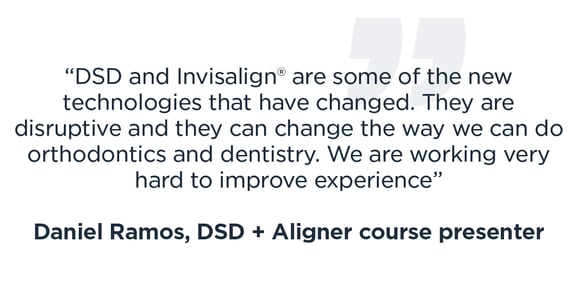 How does the Grow Your Aligners Business Masterclass help you overcome these barriers?
Workflows
In this masterclass, we cover a series of special workflows that you will be able to manage after the course:
The DSD-Invisalign® workflow: understanding the benefits, telling your patients about it, learning how to use the DSD Planning Center.
Becoming a provider of the DSD-Invisalign® solutions: you will understand DSD TPS – the treatment planning service for ClinCheck® provided at the DSD Planning Center. You will understand exactly what TPS is and how to benefit from it.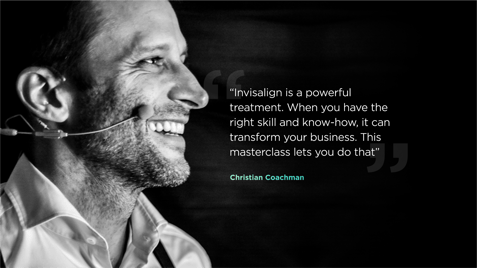 So, who should sign up to this masterclass?
Orthodontists, specialists, general practitioners and staff members who are part of the smile design process and the treatment planning, case acceptance and clinical performance of cases involving orthodontic treatments.
Clinic owners who want to start doing Invisalign® cases or plan to do more.
Treatment planners who would like to improve facially-driven dentistry planning.
Treatment coordinators who want to create better digital and visual patient treatment presentations and give their patients that real 'wow' factor
Are you ready to see how DSD can help you to grow your Invisalign® business? Sign up to the masterclass here.
Or, if you're interested in finding out how you can combine aligner treatment with an easy, affordable smile makeover solution, check out our Lite Dentistry Masterclass here.
In partnership with Align Technology.