How 3D printing empowers DSD workflows: George Cabanas at the Formlabs User Summit 2020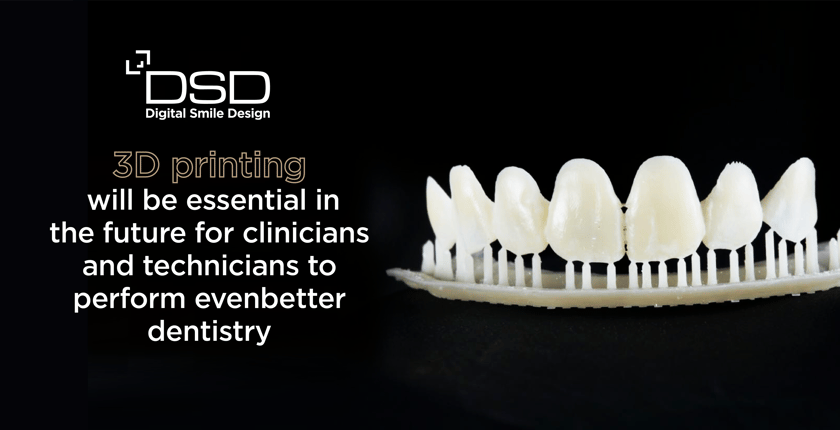 On 28 October 2020, DSD's Research and Development Manager, George Cabanas, was invited once again to participate in the annual Formlabs User Summit. After taking part in a digital dentistry panel at the 2019 International User Summit, this year he presented the dental keynote: 'How 3D printing empowers Digital Smile Design workflows' for virtual attendees from around the world.
Formlabs User Summit Global 2020
While Covid-19 certainly changed the format of this year's Formlabs summit, the industry-leading speakers and world-class content made it the same unmissable event as always. Attendees from all corners of the globe needed only a laptop to tune in completely free of charge to presentations about diverse industries, expert roundtables and user panels, as well as a Formlabs office tour and virtual product booths.
And, given its 100% online format, the whole range of sessions from the summit is available on demand now that the conference is over.

How 3D printing empowers DSD workflows
An engineer and specialist in telecommunications, George has 13 years of experience in printing appliances and solutions for the dental field. He is passionate about the transfer of technology and combines his background in engineering with dentistry to provide solutions that improve patient lives and boost their confidence.
This passion became the focus of his keynote presentation at the 2020 Formlabs User Summit, in which he shed light on how 3D empowers Digital Smile Design workflows and improves appliances that clinicians use every day in their daily work with patients.

Here are just four of the key takeaways on how 3D printing enhances Digital Smile Design workflows:


1. We can create and improve diverse solutions for clinicians and patients
To start, George explained the variety of dental appliances which are made possible using 3D printing technology.
These include hallmarks of DSD's pre case acceptance workflow - the DSD Shell and the models and silicone indexes used to produce the DSD Mock up - as well as game-changing appliances designed to increase safety, accuracy and predictability in surgical procedures, such as the Double Crown Lengthening Guide.
3D also enables us to print a whole range of other products such as prosthesis; ortho appliances like indirect bonding trays; nightguards, all types of models and bite deprogrammers.

2. We benefit from the transfer of knowledge
Why do we bring engineering principles into the dental field? George examined how this transfer of knowledge had a significant impact on improving one of our stackable surgical guides, the DSD Clic Guide, by adding an additional retentive component to ensure that all the pieces have sufficient friction and stay together to give the surgeon maximum stability throughout the procedure.
He explained how, in addition to the ball-and-socket solution that allows the different components to interlock yet be easily removed, a 'belt and suspenders' solution was implemented to provide even greater retention. This was done by placing 'hooks' on the surgical guide to allow the surgeon to join the two pieces together using conventional orthodontic elastics when necessary or appropriate.

3. It supports quality control procedures
George moved on to explain the different products that are designed to assist clinicians with the quality control process, looking at tooth prep in particular: "We've come up with a variation on the silicone indexes which labs have been producing for years, but taken a twist with 3D printing. We can help the clinician in the actual tooth preparation, but we also have several guides to help them decide if sufficient preparation has been performed."

4. Remote 3D printing can revolutionize our approaches
After the events of this year, almost all businesses around the world have seen some change in the way they operate. When it comes to our lab operations, remote 3D printing was one newly implemented feature that assisted us with production as we adapted to this new way of working. In his presentation, George explained how this feature became an unexpected benefit to keep production high during this time.
He explained two main advantages. First of all, that half the team was able to work remotely, with a lab team in the office only for essential tasks such as removing products from the printers, curing and post processing. And secondly, that it enabled staff to work more flexible hours – as the in-lab technicians ensure the printers are primed before leaving, the at-home technicians are able to connect and remotely launch the process. "We are now in the habit of always working in prime mode so that the in-house lab technicians can be working on their products and the at-home technician can independently launch print jobs during the day without interrupting the other technicians," he expands.
The result? The whole process made the team both more efficient and more effective: "Hands up to Formlabs for coming up with this remote 3D printing solution – it's much easier than I could have expected."


Where is dentistry and dental technology heading?
George explains: "In our field, in dentistry, we are experiencing fascinating advances in technology. And we're with a partner, Formlabs, that is constantly developing new resins, new machines and new solutions for all of us in the dental field to improve and be better at what we do.
He also emphasized that if it's not already, 3D printing will be essential in the future for clinicians and technicians to perform even better dentistry and to develop solutions that are quicker and more cost effective for patients.
"As dental professionals, we never stop learning. We will constantly be learning new tools, new solutions, new technologies – and that's what makes our field beautiful. In the end, what we do can be brought by a clinician into a patient's mouth to deliver a beautiful solution that has a tremendous impact on our patients."

Want to know more about how 3D printing could benefit your clinic?
Register on our brand-new video streaming platform, WatchDSD, to watch George's 2020 webinar with Dr Luken de Arbeloa on how dental clinics can successfully implement 3D printing workflows.